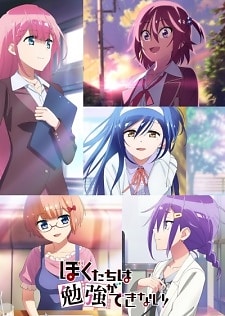 Bokutachi wa Benkyou ga Dekinai!
Under Nariyuki Yuiga's devoted tutelage, his classmates Rizu Ogata, Fumino Furuhashi, and Uruka Takemoto are finally pulling average test scores on their worst subjects. But time is ticking, and there is still a long way to go before the three geniuses of Ichinose Academy are ready for their upcoming university exams. Meanwhile, the girls still struggle to balance the pursuit of their dreams with their growing affections for their unsuspecting tutor. Joining them are Mafuyu Kirisu, a teacher with strong views about education and talent because of her past as a rising figure skater, and Asumi Kominami, a graduate from their school aiming to attend a national medical university. With these two additions, the group of six is livelier than ever before. Completely caught up in hilarious antics with his new friends, Yuiga finds that his last year of high school now includes a lot more than just going to class and studying. [Written by MAL Rewrite]
Harem
Comedy
Romance
School
Shounen
Mengudara
06 Okt 2019 - 29 Des 2019
Tayang
Setiap Minggu pukul 00:30 (JST)
Studio
Silver, Arvo Animation
Kualitas:
Terbaik
Bagus
Lumayan
Standar
Catatan:
Kualitas garapan ditentukan otomatis berdasarkan rata-rata penilaian yang diberikan oleh member.
Garapan yang baru dinilai oleh beberapa member, akan tetap masuk kategori standar.