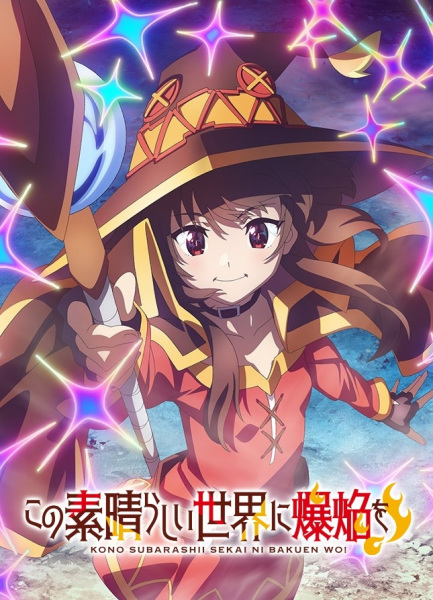 Kono Subarashii Sekai ni Bakuen wo!
Megumin is a young and passionate wizard from the Crimson Demon Village, a remote community of mages with red eyes and a flair for the dramatic. She has devoted her life to mastering explosion magic, a powerful but impractical spell that leaves her drained of mana and unable to move for the rest of the day. Regardless, she refuses to learn any other skills.

Along with her childhood friend and self-proclaimed rival, Yunyun, Megumin enrolls in the Red Prison: a prestigious academy for Crimson Demon magic users. There, she learns more about the secrets and history of her clan, as well as the threats and challenges they must face. As she polishes her power at the Red Prison with the help of her loyal familiar Chomusuke and her adorable little sister Komekko, Megumin aims to become the greatest explosion wizard of all time!

[Written by MAL Rewrite]
Mengudara
06 Apr 2023 - 21 Jun 2023
Tayang
Setiap Kamis pukul 01:00
Kualitas:
Terbaik
Bagus
Lumayan
Standar
Catatan:
Kualitas garapan ditentukan otomatis berdasarkan rata-rata penilaian yang diberikan oleh member.
Garapan yang baru dinilai oleh beberapa member, akan tetap masuk kategori standar.