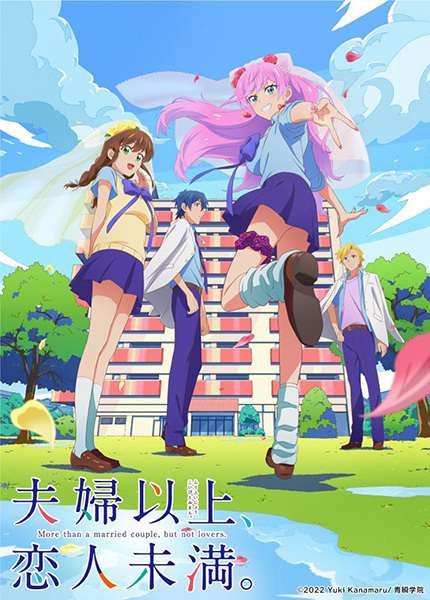 Fuufu Ijou, Koibito Miman.
Third-year high school student Jirou Yakuin is in love with his childhood friend and classmate, Shiori Sakurazaka. Thus, he hopes to be paired with her for the "marriage practical": their school's practice of randomly selecting boy-girl pairs to live as pretend married couples while monitoring and rating them on how close they have gotten. Meanwhile, the lively Akari Watanabe wants to be assigned to her crush, the popular and good-looking Minami Tenjin.

Much to their dismay, Jirou and Akari find out that not only have they been paired together, but so have Shiori and Minami! Determined to be with their crushes, Jirou and Akari strive to earn as many points as possible, as the top 10 pairs earn the right to switch their partners—so long as both couples agree.

[Written by MAL Rewrite]
Comedy
Drama
Romance
School
Seinen
Mengudara
09 Okt 2022 - 25 Des 2022
Tayang
Setiap Minggu pukul 22:00
Kualitas:
Terbaik
Bagus
Lumayan
Standar
Catatan:
Kualitas garapan ditentukan otomatis berdasarkan rata-rata penilaian yang diberikan oleh member.
Garapan yang baru dinilai oleh beberapa member, akan tetap masuk kategori standar.