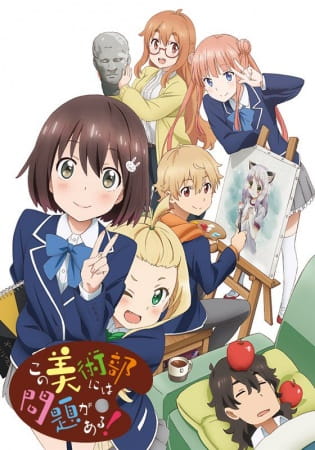 Kono Bijutsubu ni wa Mondai ga Aru!
Mizuki Usami is a passionate member of her school's art club, but the club has a problem—Usami is the only member who takes her craft seriously! The lazy club president constantly sleeps through activities and Collette hasn't regularly attended club activities in quite some time. Uchimaki Subaru, despite being an exceptional artist who could win an award if he tried, is obsessed with drawing the perfect 2D wife.

Light-hearted and comedic in tone, Kono Bijutsubu ni wa Mondai ga Aru! follows Usami as she struggles to do art club-like activities, often obstructed by her motley crew of good-for-nothings and her distracting crush on Subaru.

[Written by MAL Rewrite]
Comedy
Romance
School
Seinen
Visual Arts
Mengudara
08 Jul 2016 - 23 Sep 2016
Tayang
Setiap Jumat pukul 02:28
Kualitas:
Terbaik
Bagus
Lumayan
Standar
Catatan:
Kualitas garapan ditentukan otomatis berdasarkan rata-rata penilaian yang diberikan oleh member.
Garapan yang baru dinilai oleh beberapa member, akan tetap masuk kategori standar.