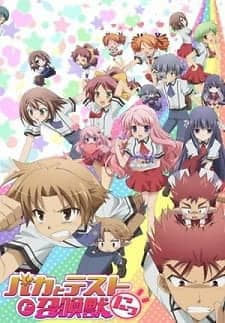 Baka to Test to Shoukanjuu Ni!
The blockheads of Class F return with more misadventures! Rather than desperately competing against the elite students in Class A for better facilities, they have other problems at hand. While the girls are constantly vying for the boys' attention, Akihisa Yoshii and Yuuji Sakamoto are being blackmailed by a stalker who threatens to reveal their most embarrassing secrets to the whole school. Moreover, everyone's avatar starts to behave strangely. Filled with more nosebleeds and eye-pokes, the boys of Class F must work together to discover the stalker's identity and deal with the misfortunes that come with love among fools. [Written by MAL Rewrite]
Mengudara
08 Jul 2011 - 30 Sep 2011
Tayang
Setiap Jumat pukul Unknown
Kualitas:
Terbaik
Bagus
Lumayan
Standar
Catatan:
Kualitas garapan ditentukan otomatis berdasarkan rata-rata penilaian yang diberikan oleh member.
Garapan yang baru dinilai oleh beberapa member, akan tetap masuk kategori standar.