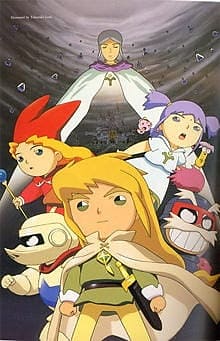 Popolocrois Monogatari
Prince Pietro is the half-human, half-dragon prince of the kingdom of Popolocrois. After the evil GamiGami tries (unsuccessfuly, as ever) to take over the Kingdom, a mysterious girl named Hyuu appears in the forest near Popolocrois Castle, which is the beginning of an adventure for Pietro, his witch friend Narcia, and all their friends. Set following the events of the first Popolocrois game.
Mengudara
04 Okt 1998 - 28 Mar 1999
Kualitas:
Terbaik
Bagus
Lumayan
Standar
Catatan:
Kualitas garapan ditentukan otomatis berdasarkan rata-rata penilaian yang diberikan oleh member.
Garapan yang baru dinilai oleh beberapa member, akan tetap masuk kategori standar.