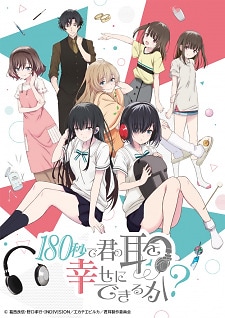 180 Byou de Kimi no Mimi wo Shiawase ni Dekiru ka?
From the mouthwatering chewing in mukbang to the relaxing whispers of voice acting, ASMR has steadily grown in popularity in recent years. As such, many people around the world enjoy it, and high schooler Akari Sawake is no exception. Sporting her trusty headphones, Akari explores the various ways ASMR can stimulate her senses and shares with others the plentiful wonders it can offer. [Written by MAL Rewrite]
Mengudara
15 Okt 2021 - 31 Des 2021
Tayang
Setiap Jumat pukul 01:00 (JST)
Studio
Indivision, EKACHI EPILKA
Kualitas:
Terbaik
Bagus
Lumayan
Standar
Catatan:
Kualitas garapan ditentukan otomatis berdasarkan rata-rata penilaian yang diberikan oleh member.
Garapan yang baru dinilai oleh beberapa member, akan tetap masuk kategori standar.