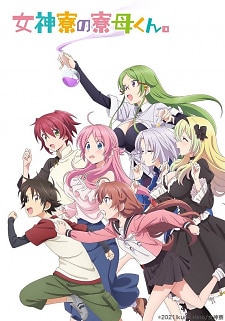 Megami-ryou no Ryoubo-kun.
Twelve-year-old Koushi Nagumo's life suddenly goes downhill when his father abandons him after their house burns down. Left to fend for himself, Koushi collapses on the street, but an eccentric woman named Mineru Wachi takes pity on him and brings him to the female dormitory "Megami-ryou." After learning of Koushi's situation, Mineru, who happens to be the temporary manager, invites him to become Megami-ryou's official dormitory mother. However, what awaits him are the dorm's residents—each with their own wacky shenanigans—like the androphobic yet gentle Atena Saotome, the feminine tomboy Kiriya Senshou, and Mineru herself, whose recklessness knows no bounds when it comes to science. Despite this, Koushi does his best to fulfill the duties of this crazy new life! [Written by MAL Rewrite]
Harem
Comedy
Romance
Ecchi
Shounen
Mengudara
14 Jul 2021 - 15 Sep 2021
Tayang
Setiap Rabu pukul 23:30 (JST)
Kualitas:
Terbaik
Bagus
Lumayan
Standar
Catatan:
Kualitas garapan ditentukan otomatis berdasarkan rata-rata penilaian yang diberikan oleh member.
Garapan yang baru dinilai oleh beberapa member, akan tetap masuk kategori standar.