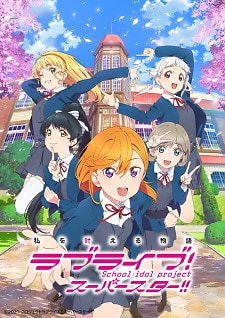 Love Live! Superstar!!
Everyone has a dream they strive to achieve, and so does the musically talented Kanon Shibuya. However, due to her stage fright, Kanon fails to make it into Yuigaoka Girls' High School's music program and instead ends up in the general curriculum. Even though Kanon makes the conscious decision to quit music altogether, her classmate Tang Keke rekindles Kanon's passion for music with her own: a passion for school idols. Although Keke and Kanon try to form a school idol group, their effort meets strong objections from Ren Hazuki, the daughter of the school's director. Even so, the girls soon visit the director, who allows them to set up their school idol club under one condition—they must win first place at the Yoyogi School Idol Festival. The resilience of these aspiring idols is put to the test as they face the challenges that come their way. Throughout their journey, the girls make new friends and meet new members that join them to become the dazzling idols others can only imagine. [Written by MAL Rewrite]
Music
Slice of Life
School
Mengudara
11 Jul 2021 - 17 Okt 2021
Tayang
Setiap Minggu pukul 19:00 (JST)
Studio
Sunrise Beyond, Sunrise
Kualitas:
Terbaik
Bagus
Lumayan
Standar
Catatan:
Kualitas garapan ditentukan otomatis berdasarkan rata-rata penilaian yang diberikan oleh member.
Garapan yang baru dinilai oleh beberapa member, akan tetap masuk kategori standar.