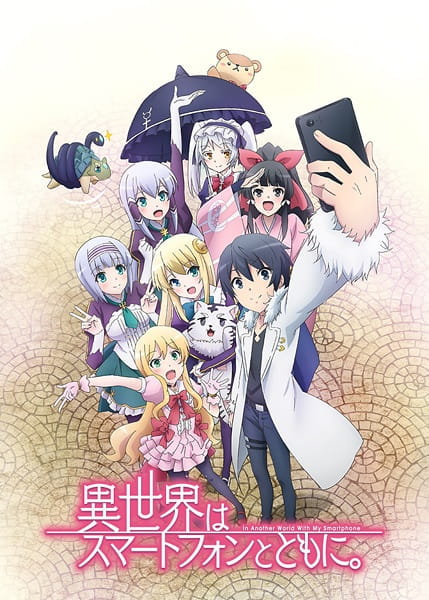 Isekai wa Smartphone to Tomo ni.
In a thoughtless blunder, God accidentally strikes down Touya Mochizuki with a stray bolt of lightning! As an apology, God offers him one wish and the chance to live again in a magical fantasy world. Touya happily accepts the offer and, for his one wish, asks only to keep his smartphone with him as he begins his journey into this mysterious world.

Starting over in this new world, Touya finds it is filled with magic—which he has an affinity for—and cute girls vying for his attention. These girls—the twins Linze and Elze Silhoueska, Yumina Urnea Belfast, Leen, and Yae Kokonoe—provide Touya with no end of romantic frustrations, but also companionship as he discovers the secrets of this new world.

[Written by MAL Rewrite]
Adventure
Harem
Comedy
Magic
Romance
Fantasy
Isekai
Reincarnation
Mengudara
11 Jul 2017 - 26 Sep 2017
Tayang
Setiap Selasa pukul 20:30
Kualitas:
Terbaik
Bagus
Lumayan
Standar
Catatan:
Kualitas garapan ditentukan otomatis berdasarkan rata-rata penilaian yang diberikan oleh member.
Garapan yang baru dinilai oleh beberapa member, akan tetap masuk kategori standar.