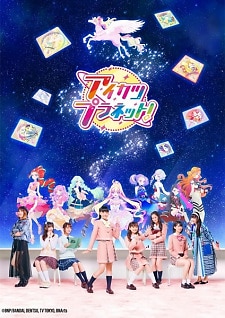 Aikatsu Planet!
The story revolves around "Aikatsu Planet," a state-of-the-art virtual world where anyone can assume the role of an avatar and becoming a most popular virtual idol. Mao Otoha, an ordinary first-year student at the private academy Seirei High School, becomes a top idol avatar Hana when Hana's previous alter ego Meisa Hinata suddenly disappeared. However, Mao's new role as the avatar Hana is a secret to everyone else. (Source: Wikipedia)
Music
Kids
Slice of Life
School
Mengudara
10 Jan 2021 - 27 Jun 2021
Tayang
Setiap Minggu pukul 07:00 (JST)
Studio
Bandai Namco Pictures
Kualitas:
Terbaik
Bagus
Lumayan
Standar
Catatan:
Kualitas garapan ditentukan otomatis berdasarkan rata-rata penilaian yang diberikan oleh member.
Garapan yang baru dinilai oleh beberapa member, akan tetap masuk kategori standar.