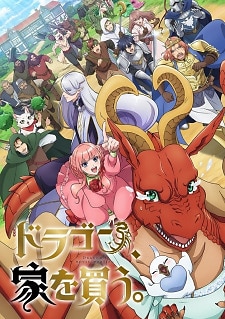 Dragon, Ie wo Kau.
In an RPG fantasy world, a red dragon named Letty is disowned by his parents after failing to guard their eggs. Now he has to find a place of his own, but unlike other dragons, Letty is meek, cowardly, and has overall low stats. Regardless, a defenseless young dragon makes for an easy target for those who only see him as a beast to be feared, vanquished, and even devoured. After some time searching for somewhere to call "home," he encounters the elf Dearia, who saves him from a band of heroes. Both an architect and a real estate agent, Dearia offers to help Letty find the perfect abode that suits his needs. Thus ensues Letty's house-hunting quest, as well as all the fantastical creatures and formidable enemies he meets along the way! [Written by MAL Rewrite]
Mengudara
04 Apr 2021 - 20 Jun 2021
Tayang
Setiap Minggu pukul 22:00 (JST)
Kualitas:
Terbaik
Bagus
Lumayan
Standar
Catatan:
Kualitas garapan ditentukan otomatis berdasarkan rata-rata penilaian yang diberikan oleh member.
Garapan yang baru dinilai oleh beberapa member, akan tetap masuk kategori standar.