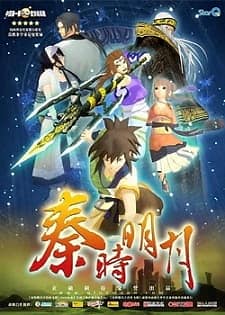 Qin Shi Ming Yue: Bai Bu Fei Jian
Set during the Qin Dynasty in ancient China, a brave assassin attempts to kill the Emperor to save his homeland. However, the assassin fails and in retaliation, the Emperor sends his troops to kill his eight year old son. A highly skilled swordsman intervenes and rescues the boy. After their escape from the forces of the Emperor, they embark on a journey to change the destiny of the empire while encountering several friends and foes along the way.
Action
Historical
Martial Arts
Fantasy
Mengudara
14 Feb 2007 - 23 Feb 2007
Studio
Sparkly Key Animation Studio
Kualitas:
Terbaik
Bagus
Lumayan
Standar
Catatan:
Kualitas garapan ditentukan otomatis berdasarkan rata-rata penilaian yang diberikan oleh member.
Garapan yang baru dinilai oleh beberapa member, akan tetap masuk kategori standar.