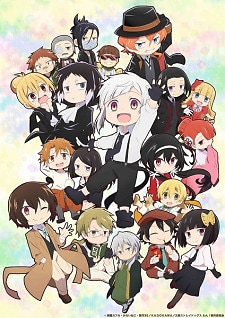 Bungou Stray Dogs Wan!
The peaceful days of the very popular work Bungou Stray Dogs are here. The characters of the Armed Detective Agency and the Mafia are in miniature form?! Due to Atsushi and co. becoming cute, this is a different experience to the original work—a pleasant gag manga! (Source: Bungo Stray Dogs Wiki)
Slice of Life
Comedy
Supernatural
Tayang
Setiap Rabu pukul 00:30 (JST)
Kualitas:
Terbaik
Bagus
Lumayan
Standar
Catatan:
Kualitas garapan ditentukan otomatis berdasarkan rata-rata penilaian yang diberikan oleh member.
Garapan yang baru dinilai oleh beberapa member, akan tetap masuk kategori standar.