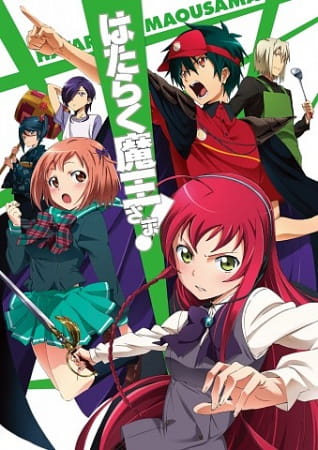 Hataraku Maou-sama!
Striking fear into the hearts of mortals, the Demon Lord Satan begins to conquer the land of Ente Isla with his vast demon armies. However, while embarking on this brutal quest to take over the continent, his efforts are foiled by the hero Emilia, forcing Satan to make his swift retreat through a dimensional portal only to land in the human world. Along with his loyal general Alsiel, the demon finds himself stranded in modern-day Tokyo and vows to return and complete his subjugation of Ente Isla—that is, if they can find a way back!

Powerless in a world without magic, Satan assumes the guise of a human named Sadao Maou and begins working at MgRonald's—a local fast-food restaurant—to make ends meet. He soon realizes that his goal of conquering Ente Isla is just not enough as he grows determined to climb the corporate ladder and become the ruler of Earth, one satisfied customer at a time!

Whether it's part-time work, household chores, or simply trying to pay the rent on time, Hataraku Maou-sama! presents a hilarious view of the most mundane aspects of everyday life, all through the eyes of a hapless demon lord.

[Written by MAL Rewrite]
Comedy
Demons
Supernatural
Romance
Fantasy
Mythology
Mengudara
04 Apr 2013 - 27 Jun 2013
Tayang
Setiap Kamis pukul 22:00
Kualitas:
Terbaik
Bagus
Lumayan
Standar
Catatan:
Kualitas garapan ditentukan otomatis berdasarkan rata-rata penilaian yang diberikan oleh member.
Garapan yang baru dinilai oleh beberapa member, akan tetap masuk kategori standar.