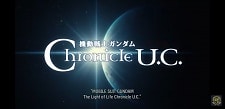 Mobile Suit Gundam: Hikaru Inochi Chronicle U.C.
As the Turn A Gundam's Moonlight Butterfly begins to reduce civilization to dust, the ghosts of Amuro Ray and Lalah Sun look back on the history of the Universal Century. A bonus video recapping the Universal Century included in the first four releases in the "U.C. Gundam Blu-ray Libraries" series of Blu-ray Disc re-releases of the Universal Century installments in the Gundam franchise to commemorate the overall franchise's 40th anniversary, with a story written by Harutoshi Fukui.
Kualitas:
Terbaik
Bagus
Lumayan
Standar
Catatan:
Kualitas garapan ditentukan otomatis berdasarkan rata-rata penilaian yang diberikan oleh member.
Garapan yang baru dinilai oleh beberapa member, akan tetap masuk kategori standar.